Sarawak Cultural Village is an award-winning Living Museum that spans across 17-acres of land just across from Damai Beach Resort and Hotels. Experience Sarawak in Half-a-day at Sarawak Cultural Village and learn about the local culture and lifestyles of the various ethnic groups in Sarawak.
Etnnic House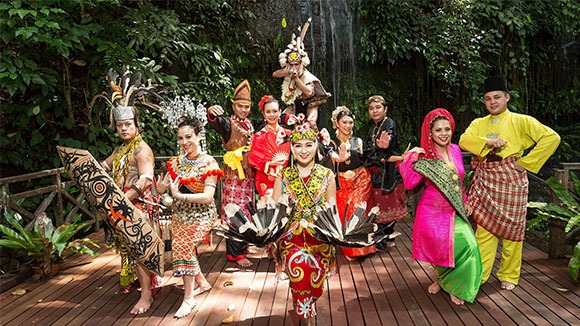 At Sarawak Cultural Village, there are replica buildings representing every major ethnic group in Sarawak mainly the Bidayuh, Iban, Orang Ulu, Penan, Melanau, Malay & Chinese. All buildings are staffed with members of the ethnic groups in traditional costume and carrying out traditional activities. The staffs act as storytellers who describe and interpret our way of life. They will happily pose with you for photos too!
Cultural Show
Sarawak Cultural Village also has an award-winning dance troupe that will entertain you with our multi-cultural dance performance in our Village Theatre twice a day. Our cultural show runs twice a day at 11.30 am and 4 pm.
Transport
Sarawak Cultural Village is a 50-minute drive from Kuching Bus Terminal. You can either rent a car or take a taxi. Alternatively, you can also take our Van Shuttle from Grand Margherita Hotel, Kuching.
Shuttle Service Hotline: 019 825 1619 (Halik)